newsletter issue #16 - cyber monday sale + nanowrimo
this is my first time using substack so wish me (and yourself) luck this works out, please and thank you :)
---
champagne problems
FIRST, it is :drum roll: CYBER MONDAY. most retailers have some sort of sale going on over the weekend culminating in this weird culture of discounts after thanksgiving, but good for us, i guess!
my publisher, too, has one for today: you can get 30% off if you shop for books on their website with the code CM30 (very no-nonsense, i'll give them that) plus they have free shipping so you can get Monsters Born and Made for a lot less today and tomorrow!
second, if you're thinking of gifting Monsters Born and Made to a reader for the holidays (thank you!), consider buying it from Books of Wonder because you get signed bookplates!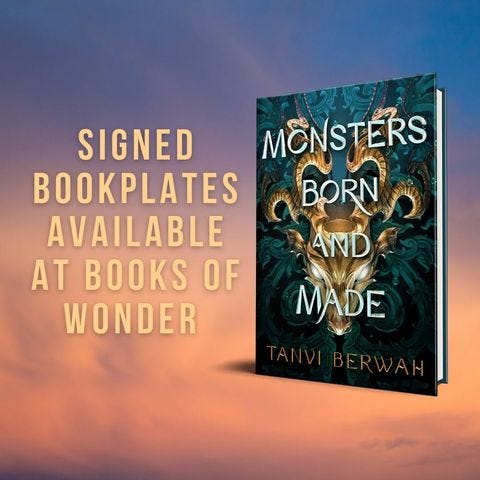 (yes, i know the irony of pushing a 30% sale and then this, sorry, just listing out the options ;__; )
Monsters is also currently on the holiday catalog of book stores in the PNW area so if you're around, you can head to any indie store and check out the display. Tag me in photos if you take some! I love seeing it in stores :)
---
now, update on book 2:
there comes a time in every new writer's career when they're staring at the first book they're writing under contract, second to be published, and think the same thing: no one told me it was going to be this hard.
when, in fact, everyone who came before did.
SITD has run from me, again. the epiphany i last had with works perfectly, and yet, it has created a dragon of a new narrative questions that i need to answer fast because, well, deadlines.
i love this story though. it has so much of what i love—labyrinthine undergrounds, monsters, stories within stories, and oh, labor revolt. this is the stuff that keeps me working even when i'm tired because i can't wait for this book to give readers another taste of the Islands of Ophir.
---
blank space
speaking of deadlines, not that i have a lot of thoughts in my head right now but how's nanowrimo going for those of you who love indulging in this death match?
i used nanowrimo to work on book 2. i say used because i got to 50k words on the 25th. unfortunately, as outlined above, that doesn't mean my actual work is finished. i'm still chipping away, word after word, on the rest of the book that comes after the midpoint.
what helped me for nanowrimo—this time and all the 11 times i've been "successful" as far as nano is concerned—is momentum.
which, if you're not a super planner, comes from knowing your characters. nano is a great exercise in forgetting about the technical details of fast-paced genre stories and get into the head of your characters. the internal thoughts of characters is such a ripe place to excavate feelings—yours and theirs. those feelings will bring out the momentum you need to write. the character talking to you, telling you the story inside their head more than the big visuals, is where a story turns into art.
i don't know about you, but i read stories to experience emotions, to find words for experiences i can't name myself.
that stuff is priceless, and it comes not with swords and blood magic and the hundred tropes that we can rattle off—but with a character simply coming to a realization all in their head. it's a thing of beauty and i think, often, it comes through in writing that was never planned but one that you stumbled upon as you are in the middle of the act itself.
the fun thing about nano, though, is you can finish off your 50k and then absolutely discard every last word you wrote. it's very freeing.
---
the lakes
Octavia Butler's Science Fiction Predicted the World We Live In: New York Times did this incredible, immersive piece on the amazing Octavia Butler. I absolutely love their interactive pieces and this one, both for presentation and the subject, is my favorite.

Paul Lafargue on the Spectacle of Victor Hugo's Funeral: If Les Miserables isn't enough morbidity for you, here's a piece on the "most magnificent funeral of the century." It's an, at once, delightful and revolting read, and even notes that people were disappointed (??) that Hugo's corpse wasn't paraded around. But despite that the festivities of the event kept businesses—food, drinks, sex—booming.
What Butler's heroines have in common is the resourcefulness and grit to make something of nothing — the ability to problem-solve, time and time again.
This same spirit animates the way in which many read Butler now: not just as a gifted storyteller but as someone who saw, in the distance, the crises we're now struggling to overcome.
---
mirrorball
All Horses of Iceland by Sarah Tolmie: A historical fantasy written like a fable, this was a beautiful read about a trader who goes on a journey down the Silk Road and comes back with magic and horses. This is definitely my new comfort read. If you liked Paulo Coehlo's The Alchemist, you'll love this book too. Plus, it's super short!
---
starlight
my friend, Angel Di Zhang, has just had the cover of her debut book revealed and i'm so excited to share it here!
so! if you read all the way until here, might as well tell me if you caught what the new section titles are about. there might be a little surprise for the first person to do so :)
love and light, take care <3